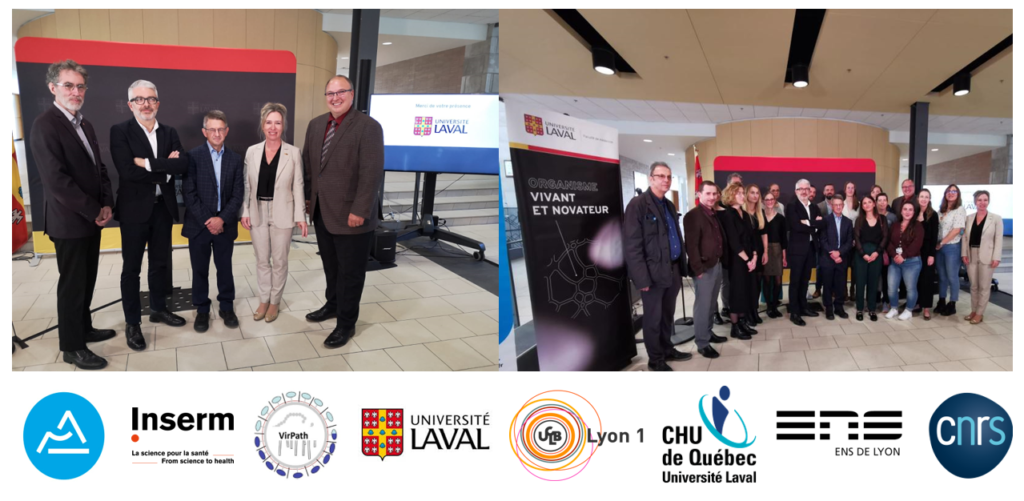 The VirPath laboratory, Virnext and the LVMC Molecular and Cellular Virology Laboratory of the CHU de Québec-Université Laval Research Centre, are combining their strengths in the research of respiratory viral infections with the creation of RespiVir France – Canada, an International Associated Laboratory within the partnership framework of Université Claude Bernard Lyon 1 and Université Laval.
The public announcement took place in Quebec City on 11 October 2022 in the presence of Ms Eugénie Brouillet, Vice-Rector for Research, Creation and Innovation at Université Laval, Mr Martin Beaumont, CEO of the CHU de Québec-Université Laval, Mr Julien Poitras, Dean of the Faculty of Medicine at Université Laval, Ms Stéphanie Legoupy, Scientific and University Cooperation Attaché representing the French Consulate General in Quebec City, Mr Jan Matas, Director of the CNRS – Centre national de la recherche scientifique office in Canada, members of the communities of Université Laval, Université Claude Bernard Lyon 1, the two partner laboratories VirPath LVMC, partners from the research community, and with speeches by Mr Frédéric Fleury, President of Université Claude Bernard Lyon 1 and Ms Catherine Staron, Vice-President for Higher Education, Research and Innovation of the Auvergne-Rhône-Alpes Region.This event underlined the quality of our 12-year collaboration with the team of Professor GuyBoivin of Laval University's Faculty of Medicine, which focuses on the origin, treatment and prevention of infections by emerging and re-emerging respiratory viruses.
RespiVir aims to perpetuate and ambitiously extend our R&D programms with a view to developing new prophylactic and therapeutic strategies against respiratory viruses. The LIA will also focus on strengthening the exchange of researchers between our two laboratories and the joint training of doctoral students, with the aim of passing on our knowledge and expertise and training more research staff.
Video link: https://www.youtube.com/watch?v=uXaJ1-AUruY