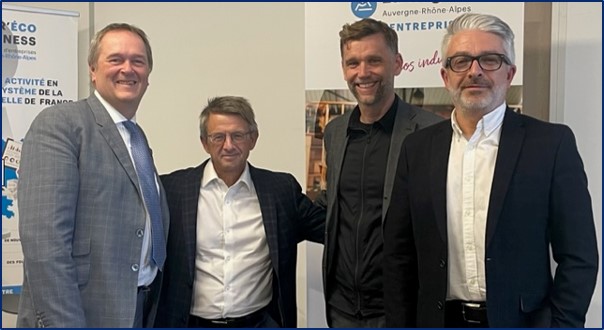 An excellent meeting with Bruno Marchand, Mayor of Quebec City, Carl Viel, CEO of Quebec International, and Guy Boivin, Professor at the Laval University's Faculty of Medicine on the occasion of the 35th Jacques Cartier Meeting Days. 
Fruitful discussions on the scientific and technological cooperation between our territories, focused on the study and control of emerging and re-emerging respiratory viruses, a major current health and economic challenge. The France-Canada International Associated Laboratory RespiVir between our two partner universities, Université Claude Bernard Lyon 1 and Université Laval along with the start-ups spinning off from our research laboratories (VirHealth, Signia Therapeutics, Vaxxel, VirexpR and AIS Biotech), illustrate our ability to synergize for the creation of scientific, medical, economic and societal value between our healthcare ecosystems in Quebec, Lyon and the Auvergne-Rhône-Alpes region. 
Virnext is very pleased with the commitment of Auvergne-Rhône-Alpes Entreprises to this partnership with Québec International, a valuable support and accelerator for the international outreach and growth of industrial companies in the Auvergne-Rhône-Alpes Region and the Capitale-Nationale and Chaudière-Apalaches regions. Thank you for your commitment to innovation, competitiveness and job creation in our regions.